Simpson Bay Resort & Marina in St. Maarten
This St. Maarten's Premier Beach Resort offers 272 spacious and fully equipped suites and 83 two-bedroom villas accommodating up to six people in Simpson Bay.

When you choose a beach resort in St. Maarten, you get an island destination that offers two vacation experiences in one: the chance to explore Dutch St. Maarten and French Saint Martin where you can enjoy the beaches and water sports, soak up the ambience, hit the island's hottest duty free shopping spots and when the sun goes down, indulge yourself with some of the finest dining and nightlife in the Caribbean.
The Resort
Simpson Bay Resort & Marina is your home away from home in St. Maarten, a Caribbean island ideally positioned on the beach, midway between the island's most popular night spots and shopping. Fine Restaurants abound to tempt your pallet and an Activity Center makes it convenient for excursions to dive/snorkel spots along with a variety of water sports.
With its sheltered beach and extensive pool areas, tropical gardens full of hibiscus and bougainvillea, varied activity program, water sports, dining and evening entertainment, Simpson Bay Resort & Marina is a favorite with visitors of all ages.
The Villas
The Villas at Simpson Bay Resort are located on the shores of Simpson Bay, next to The Resort, with spectacular Caribbean views. At The Villas you are surrounded by five-star comforts and you have a front row seat at sunset for unfettered views of the Caribbean!
In a privileged waterfront setting, The Villas at Simpson Bay Resort have an unparalleled location on the shore of Simpson Bay, a stone's throw from beaches, water sports, restaurants, bars, casinos and shopping. St. Maarten's capital, Philipsburg, is a 10-minute drive and Marigot, its St. Martin counterpart, is only 20 minutes away. Food enthusiasts flock to the "gourmet capital of the Caribbean" for outstanding meals and vibrant nightlife on the island of St. Martin. The Villas at Simpson Bay Resort enable you to enjoy all the comforts of upscale oceanfront living. Your elegant, fully furnished caribbean villa has every amenity and feature you could possibly need during your visit, plus a private terrace offering spectacular views of the sea.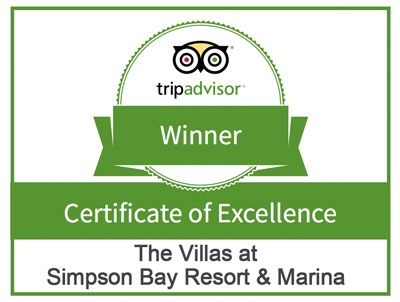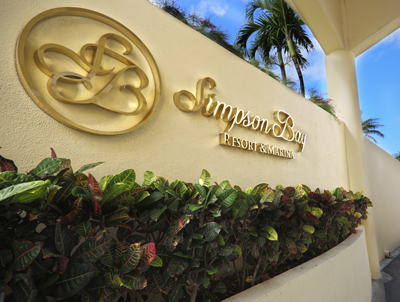 An Award Winning Resort in St. Maarten
The Villas at Simpson Bay Resort we are proud to announce that we have received a TripAdvisor® Certificate of Excellence award. The accolade, which honors hospitality excellence in St. Maarten, is given only to establishments that consistently achieve outstanding traveller reviews on TripAdvisor, and is extended to qualifying businesses worldwide. Establishments awarded the Certificate of Excellence are located all over the world and represent the upper echelon of businesses listed on the website.
Learn more and book your St. Maarten Vacations clicking here